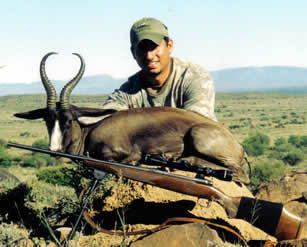 Daily rates are:
• $400 1 hunting client & 1 professional hunter.
• $320 2 hunting clients & 1 professional hunter.
• $180 for a non hunting observer
Duration
The ideal period for a safari in the region is between 7 and 21 days but can be extended according to the client's preferences and areas they wish to hunt.
Payments
• All prices are quoted in US Dollars and are valid as per price list and subject to change.
• A 50% deposit based on total daily rate to confirm hunting dates and safari.
• All payments to be made in cash, travellers cheques or bank transfers.
• Balance of daily rates payable on arrival.
• All charges are applicable only to animals actually bagged or wounded and lost.
• Trophy fees, additional fees and payment for wounded animals in excess of the deposit, will be payable at the end of the hunt before departure. This include day trips etc.
• Hunting commences on day of arrival and terminates on day of departure unless otherwise specified.

Cancellations
Deposits are non-refundable.
Included in safari rates:
• All accommodation, meals, beverages, local wines, beer &spirits whilst on safari.
• Pick up from Port Elizabeth airport & return after safari.
• Hunting licences.
• Services of a professional hunter, skinner & 4×4 safari vehicle.
• Field preparation of trophies
•Laundry Service
Excluded from safari rates:
• Accommodation before & after safari.
• Taxidermy & shipping of trophies.
• A $110.00 handling fee for all trophies.
• Staff gratuities.
• 14% VAT on daily rate.
• Rifle Hire $50.00 per day
Please email us with your enquiries.