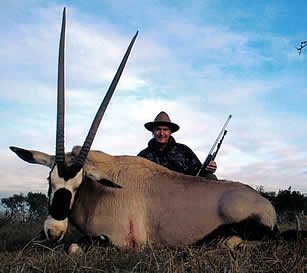 Travel Arrangements
Book your flight via Johannesburg International Airport to Port Elizabeth where a guide will meet you and transfer you to the Lodge.
Firearms & Ammunition
The choice is largely up to the clients preferences, a strong gun case and soft bag is essential. Hunting plains game in South Africa, shooting distances vary from 80 to 300 yards, medium calibre rifles, 30-06, 300"s etc with premium grade ammunition is advised, a good quality scope and zeroed in at 200 yards.80 rounds should be enough for an average 10 day safari.
Please arrange with the Customs Services (local and South African) for the necessary transport permits.
When selecting rifles for your Safari the following are recommended:
Small Game – up to .270
Large Game – .30 Cal
Dangerous Game – min .375
Important Information: Firearm Permits
You need to declare your rifles and bring copies of "proof of ownership".
All firearms must be declared at the point of entry where a temporary 6-week permit will be issued at no charge.
You will need a copy of the SAP520 Temporary Firearm Import Application, before your departure to South Africa. This form must be completed in black ink and left unsigned until the document is finalized in front of the police official issuing the actual permit at the airport. You can download this form here. Right click on the link and select "save target as". Download SAPS520.
Required along with the sap 520, will be the following:
Passport
Airline Ticket
Proof of Ownership, i.e. firearm licenses, etc. Please make sure you have proof of ownership by the way of a customs declaration letter from the country of origin, etc. Proof of ownership is obligatory.
Letter of Invitation from Dereck Platt Safaris. This will be forwarded to you once a deposit for your safari has been paid.
If you require travel related assistance, Hunters Support provides a range of services from meeting and helping you through customs with your firearms, or even applying for permits on your behalf etc., you can visit their website at www.hunterssupport.com.
Climate
South Africa has great temperature variations depending on seasons. Hot in the summer – up to 40 degrees Celsius (November to March) cold winter months as low as -4 degrees Celsius (April to October).
Clothes & Equipment
Clothes should be of a neutral color, khaki or green (hunting clothing). A warm jacket is also recommended for cold mornings, sweaters, gloves, a good pair of walking/hiking boots, a cap or hat is essential and sunscreen. Clothing that can be worn layered is ideal since it can be very cold in the morning, warming up to 80"F by midday and cooler again in the late afternoon.
Items such as a good pair of binoculars (6X or 10X), a camera and a small torch is useful.
When bringing any electrical appliances, i.e. video camera, please pack suitable converters. In South Africa we use 3 pronged round hole plugs and some 2 prong round hole plugs. Electric current is 220V and is available in most camps.
Medical
If you have any allergies or medical conditions we recommend you bring your own supply of medicines. We do carry a well stocked First Aid Kit in each of the hunting vehicles.
Trophies
All your trophies are field prepared (salted and dried) and are included in your trophy fee. The raw trophy skins and skulls will be delivered to a taxidermist for taxidermy or to be shipped to the address of your choice.
After delivery to the taxidermist, dipping, shipping, packaging, export documentation, as well as any other charges are the client's responsibility.
The Taxidermist handles export documentation. Because of veterinary restrictions no raw trophy may be exported without being dried and treated. The client will obtain Cites permits, where required, before leaving his home country for a safari.
Payments
Prices are usually quoted in US Dollars and are valid as per price list but subject to change.
A 50% deposit based on total daily rate to confirm hunting dates and safari.
All payments to be made in cash, travellers cheques or bank transfers.
Balance of daily rates payable on arrival.
All charges are applicable only to animals actually bagged or wounded and lost.
Trophy fees, additional fees and payment for wounded animals in excess of the deposit, will be payable at the end of the hunt before departure. This includes day trips etc.
Hunting commences on day of arrival and terminates on day of departure unless otherwise specified.
Deep Sea Fishing
Game fishing and reef fishing can be arranged on fully equipped sport fishing or ski boats.

Day Trips
Day Trips to other places of interest in the area can be arranged on request.
Insurance and Liability
You are required to arrange your own personal travel and all – risk hunting and medical insurance. It is necessary for all clients to sign a personal indemnity before commencement of the safari.