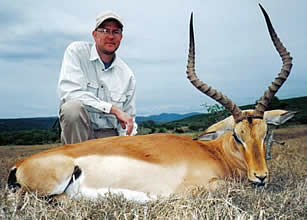 Our base is near Port Elizabeth in the Eastern Cape Province of South Africa.
Dereck Platt, a member of PHASA and SCI, runs a small operation which in turn offers a personal and unique service. He has attained an excellent reputation for privacy, personal service and quality hunting trophies, giving you that unforgettable African Experience.
All the professional hunters/guides who accompany clients, are highly experienced and skilled in their profession. They will maintain your safety at all times by complying with the national hunting regulations, and a high code of ethics thus ensuring a successful and memorable stay with Dereck Platt Safaris.
Contact Particulars
Dereck Platt
410 Heatherbank Farm Road
Port Elizabeth
6000
Tel/Fax: +27 (41) 368 1244
Mobile: +27 (82) 809 6200
Email: dereck@umgamanzisafaris.com